By Connor Mitchell
University Daily Kansan
The Democratic candidate for the congressional district that includes the University of Kansas emphasized the importance of enthusiasm and turnout from young voters at a campaign event at the Kansas Union Thursday.
"In order for us to address that we need to in Washington D.C., we have to change the people that are in Washington D.C.," said Paul Davis, a Lawrence resident and former candidate for Kansas governor. "That starts by participating in the election process. That starts by getting involved and getting out there to vote."
Joining Davis was Jason Kander, Missouri's former secretary of state and founder of Let America Vote — one of the leading voting rights initiatives in the country.
After short remarks from Davis, @JasonKander takes the podium. Opens with "how much do I like Paul Davis? I came to KU!" pic.twitter.com/8iIPFq6SCh

— Conner Mitchell (@ConnerMitchell0) September 6, 2018
Kander said he was supporting Davis simply because more politicians like him need to get elected. Kander said Davis truly believes in caring about people even if he doesn't know them personally—a key principle of being a Democrat.
"It's just to give a damn about them, whether you personally know them or not," Kander said. "I am proud to be somebody who cares about folks whether I know them personally or not. And I think you are too."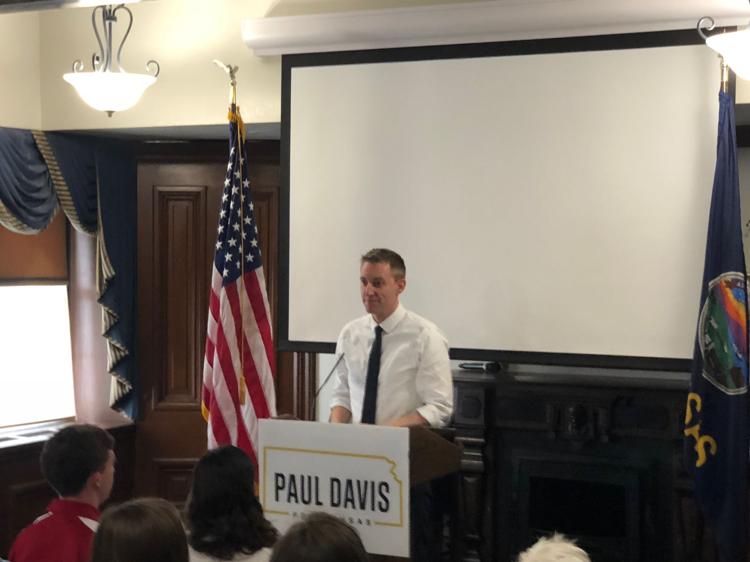 After Davis lost the gubernatorial election to Republican Sam Brownback in 2014, he was invited to a class at the University 10 days after the election. He asked the students how many of them voted — and one hand went up.
"We can't have that happen again," Davis said. "We have got to be able to mobilize students, because if students show up and vote, we can win elections that people didn't think that we could win. You can wield a huge amount of power to changing this Congress and changing the direction that our country is going in right now."
Davis and Kander also emphasized the importance of making college tuition more affordable for students. When Davis attended the University, he said, a semester of tuition cost $650 for as many credit hours as a student wanted.